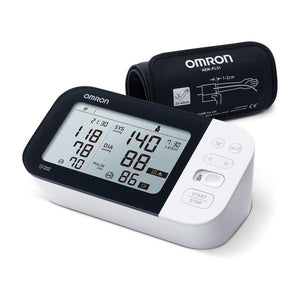 OMRON M6 comfort upper arm BP Monitor
Regular price
Sale price
₦65,000.00
---
State of the art blood pressure monitor that gives you a complete picture of your health.
The OMRON M6 comfort upper arm blood pressure monitor has been designed to eliminate the common inaccuracies caused by incorrect cuff positioning by using their very own intelli-wrap cuff technology. The intelli-wrap cuff technology reduces the impact of incorrect cuff placement.
The M6 comfort uses a pre-formed cuff which is easier to put on to your arm with one hand, making blood pressure measurements even simpler. The large display on the M6 comfort features a simple and easy to read LED easy blood pressure level indicator showing the user two colours: green (normal) or red (high).
The OMRON M6 comfort upper arm blood pressure monitor comes with a host of reliable and accurate features:
Cuff wrapping guide: shows and indicates if cuff is wrapped correctly making sure it is not too loose or too tight.
Blood pressure level indicator: Shows how your reading compares to reference values.
Morning hypertension: Allows you to track whether your morning measurement is different from the rest of the day.
Clinically validated: The device has proven its reliability and accuracy under vigorous testing procedures by major health organisations.
Irregular heartbeat detection: detects and indicates if there are any signs of an irregular heartbeat.
Features of OMRON M6 comfort upper arm blood pressure monitor
• Helps to diagnose and monitor hypertension
• Can help to detect cardiovascular risk
• Easy to read LED indicators
• Comes with a storage bag
• Body movement detection technology
• State of the art irregular heartbeat detection
• Blood pressure level monitoring with indicators
What's included
• 1x M6 comfort blood pressure monitor
• 1x Intelli wrap cuff
• 1x Instruction manual
• 1x Blood pressure pass
• 1x Batteries and storage case
Specifications
• Cuff type: Intelli wrap cuff 22-42 cm
• Memory: 2 users x 100 readings
• Length: 11.6cm
• Height: 22.4cm
• Depth: 17.7cm
• Weight: 1,280g
Warnings and cautions
• Do not adjust medication based on measurement results from this blood pressure monitor. Always take medication as prescribed by your physician. Only a physician is qualified to diagnose and treat high blood pressure.
• Consult your physician before using the device for any of the following conditions: common arrhythmias such as atrial or ventricular premature beats or atrial fibrillation, arterial sclerosis, poor perfusion, diabetes, age, pregnancy, pre-eclampsia or renal diseases.
• Do not use the device on an injured arm or an arm under medical treatment.
• Stop using the device and consult your physician if you experience skin irritation or other troubles.